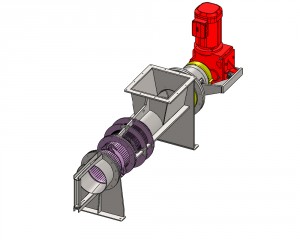 The Hansek screw press can be used to drain a wide range of materials. The material to be drained is placed into the machine through the inlet. In the task area, splash water brought along can drain through a sieve in the housing. The material is transported to the machine's drainage area by the screw shaft. Here, the material is compressed considerably, so that the water contained in the material is pressed out through the sieve. The compressed material is conveyed out of the machine again.
Depending on the material, the screw press achieves a residual moisture of up to 10% with a throughput rate of approx. 500 – 1000 kg/h.
The machine can be equipped with different attachments in order to achieve the optimum drainage results for a wide range of materials.
The screw press impresses with a high processing standard quality. Its wear-resistant design guarantees a long service life in continuous operation.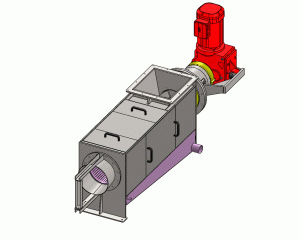 To protect against splash water, the machine is available with complete housing and a drain pan.
The following materials are examples of materials that can be drained using the screw press:
– Paper
– Cardboard
– Waste materials
– Mineral wool
– Rock wool
– Glass wool
– Screenings
– Wooden fibres
– Biomass